About Highest Paying Affiliates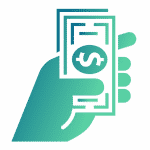 The world of affiliate marketing is an extremely dense place and there is simply no space for those who are in it to make a quick buck. The condition of the affiliate programs is not so promising either, you can't know for sure if the affiliate program that you are about to enroll yourself into will be able to see you through. Most of these are scams and if not the pay rate or commission is extremely slow or even depressing.
But here at Highest Paying Affiliates, we provide our clients with the top of line affiliate programs that offer great commissions and are two-tier affiliate programs. An affiliate has a better chance of earning a great commission in a two-tier affiliate program than in a single-tier affiliate system. Because here you get to introduce other affiliates to the program which will work under you thus working as the two-tier affiliate program. Whatever they sell or manage to sell you will get an indirect commission for this plus any commission you make for your own sales you get to keep it too.
We have been working for over 15 years providing engaging affiliate programs to our wide array of clients all across the globe. We are direct partners with a variety of affiliate programs and for this, we are able to provide our users early access to these programs and a great commission for the sales that you make. It has been a tough journey but we are glad that we have made it and now want our users to do the same, we provide you with immense opportunities within the affiliate marketing space, the right tools to be able to grow in this sector, and keeping your commissions fresh and flourishing through the years. We have been through it all and that is why want to impart this knowledge to those who are stepping their foot within the affiliate program space.
We at Highest Paying Affiliates have a storming profile of professionals that work shoulder to shoulder with you to provide insights, tips to improve your affiliate journey and helping you through every thick and thin to grow even more. By signing up with us you don't only get to earn more for yourself in the form of commission but also for your referrals. The most plausible element of this is that you should consider bringing more and more affiliates to the programs that you have joined in the form of sub-affiliates for the sake of making a more serious commission.
You can even get in touch with our previous clients in the form of customer testimonials and what not to be able to grab an insight of our service and programs offered. There is even a trial period where you get to work in real-time with an affiliate program through us only to test the potential of the program and if it is right for you or not. You won't be able to find this kind of tenacity and forthcoming with any other affiliate program model out there so before you go anywhere else and it ends in disappointment give us a try.