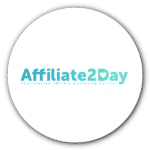 Affiliate2Day: A Two-Tier Affiliate Program
Most of the affiliate programs that you are going to come around out there would have their own certain rules and policies and being part of them you would be required to comply with them. Many programs might have a fixed commission setup for every sale that you bring in, others would only offer you fixed money or commissions in the form of CPA and multiple others would even allow you to earn a decent amount of cash from your sub-affiliates or referrals.
But what if you could come around with an affiliate program that allows you to do all of that and speeds up your earning potential? Yes, you have heard that right, the Affiliate2Day is an affiliate program that allows you to maximize your earning potential from engaging in all sorts of interactive affiliate activities that you get to perform.
Maximize your earning potential
For every sale that you help the platform secure you are given a direct 25% commission as for the leads that are made possible via the traffic that you manage to bring in allows you to earn $8 per lead and there is even a $300 lucrative commission on every successful sign up that you have managed to reel in.
It does get better though, Affiliate2Day is a two-tier program which means that you get to bring other affiliates into the mix and they will be working as your sub-affiliates referrals, here you are entitled to 10% of commission brought in by your referrals which amass to an even greater number should the number of referrals that you have, continue to grow.
Why work with Affiliate2Day?
There are potentially thousands of different affili